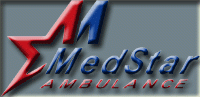 A settlement has been reached to resolve False Claims Act allegations against Medstar Ambulance Inc.
The allegations arose from a lawsuit that claimed Medstar Ambulance Inc, including four subsidiary companies and its two owners, Nicholas and Gregory Melehov, knowingly submitted false claims to Medicare.
According to the Department of Justice, from January 1, 2011, through October 31, 2014, Medstar submitted false claims to Medicare for ambulance transport services. Specifically, Medstar routinely billed for services that did not qualify for reimbursement because the transports were not medically reasonable and necessary, billed for higher levels of services than were required by patients' conditions, and billed for higher levels of services than were actually provided.
As part of the settlement, Medstar has agreed to a corporate integrity agreement with the U.S. Department of Health and Human Services.
"Ambulance service companies should be focused on the needs of the patients," said HHS Office of Inspector General Special Agent in Charge Phillip Coyne. "Billing Medicare for ambulance rides that were unnecessary or at a higher rate than could be medically justified is unacceptable. Together with our law enforcement partners, we will seek out and stop this fraudulent behavior."
This case was brought forward in 2013, by a former employee in Medstar's billing office, Dale Meehan, after claiming that she was fired for her continued questions and attempts to correct the fraudulent billing.
Dale Meehan will receive $3.5 million of the settlement under the federal False Claims Act, which allows whistleblowers to sue companies that are defrauding the government and receive a reward if the government recovers any funds as a result.