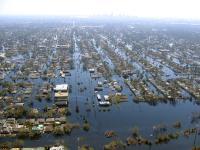 Date Filed:
Monday, February 27, 2006
A settlement has been reached in a whistleblower class action lawsuit brought against Lighthouse Disaster Relief and partners Gary Heldreth and Kerry Farmer. They are accused of accepted payment for work that was not completely performed on a contract with the Department of Homeland Security.
The settlement agreements require Heldreth, Farmer and Lighthouse to accept a judgment of $4 million less the approximately $1.3 million previously garnished by the government.
The lawsuit was originally filed in February of 2006.  The United States alleged the defendants knowingly breached their contract to build and operate a basecamp to house and feed first responders who went to New Orleans to help with rescue and recovery efforts after Hurricane Katrina. The complaint alleged that the defendants made false statements to FEMA employees in order to be paid prematurely. The defendants then failed to build and staff a basecamp sufficient to house the number of first responders called for in their contract.