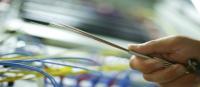 A settlement has been reached in a whistleblower class action lawsuit brought against American Systems Corporation, Anixter International Inc, and Corning Cable Systems LLC. They are accused of bidding on a contract with the CIA.
The whistleblower will receive a $585,000 share of the government's recovery.
The government's case involves allegations related to a CIA contract awarded to American Systems in early 2009 to provide supplies and services. American Systems teamed with Anixter to bid on the contract with Corning as a supplier. The United States alleged that American Systems, Anixter and Corning provided gratuities, including meals, entertainment, gifts and tickets to sporting and other events, to CIA employees and outside consultants in order to influence contract specifications that would favor the three companies in the award of the contract. The settlement also resolves allegations that the three companies improperly received source selection information from a CIA employee to whom they had provided gratuities, and that they had concealed the gratuities prior to award.