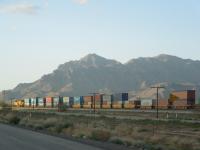 A former railroad conductor was awarded $1.66 million for blowing the whistle on BNSF Railway.
Curtis Rookaird claims he was wrongfully fired for taking safe measures, "I was just doing my job as trained and taking the safe course," he stated.
Rookaird was working as a BNSF conductor, when he was told to move 42 rail cars parked on a side track, in which 40 of them had either propane or butane residue. "We determined through our job safety briefing we were going to perform a transfer train air brake test," said Rookaird. According to Rookaird that action cost him his job.
Rookaird stated "I believe I was fired because we took the time to test the air brakes on the cars and the local managers took exception. They were in a hurry to get the job done".
BNSF claimed the firing had nothing to do with the safety check and alleges the former conductor was fired over being dishonest on his time card and insubordination.